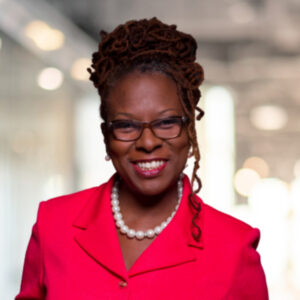 Rev. Dr. Lisa D. Jenkins is the senior pastor of the St. Matthew's Baptist Church of Harlem and an award-winning cultural strategist helping organizations unleash cultures of impact that empower individuals and strengthen teams by successfully embracing multicultural settings. 
Pastor Jenkins was first called to the Blessed Trinity Baptist Church in New York City in 2008 as the church's first woman pastor in its over 40-year history. In 2014, Rev. Jenkins, again broke the stained-glass ceiling by becoming the first woman to pastor the St. Matthew's Baptist Church of Harlem in its over 95-year history. Dr. Jenkins was the first woman to be appointed as co-chair of the Pastors Division of the Empire Missionary State Convention. She was also organized the State Convention's first Women's in Ministry Division and was the first woman to preach for the Pastor's Division. 
In addition to professional ministry, Dr. Jenkins is a certified virtual presenter and facilitator, trainer and keynote speaker with expertise in the areas of diversity, equity and inclusion as well as intersectionality and unconscious bias. With a diverse background that includes professional positions in the human resources divisions in Fortune 100 companies, Dr. Lisa equips teams and increase productivity through cultural competency. Known for her engaging and transparent style of communication, Dr. Lisa's expertise spans the arenas of faith-based communities, corporate America, academia, and civic engagement. She is currently an Adjunct Associate Professor of multicultural Studies with the City University of New York. 
Once, told that she should not attend college, today Dr. Lisa holds three degrees including a Doctor of Ministry from McCormick Theological Seminary, a Master of Divinity from New York Theological Seminary, and a Bachelor of Arts degree in Speech Communication/Journalism from Pace University.  She has also studied organizational leadership at Boston University.
As a young person, Rev. Jenkins was expelled from church for being an unwed mother. Today, Pastor Jenkins leads her second calling as senior pastor and maintains an active role in the community, emphasizing social justice and activism. 
Dr. Jenkins has written numerous publications including the best-selling book, 40 Days of Biblical & Cultural Insight Into the Black Panther Movie and her latest book, The Millennials' Guide to Diversity, Equity & Inclusion. She was also a contributor in These Sisters Can Say It, Volume II, edited by Dr. Martha Simmons.
Dr. Jenkins is a certified Prepare/Enrich facilitator, and has served on the board of trustees for the Helene Fuld College of Nursing and the advisement committee of the National Association for the Advancement of African American Children with Learning Differences. Dr. Jenkins was appointed to Manhattan Community Board 10 as well as numerous task forces and has worked in nonpartisan environments with a goal of enriching and empowering individuals, communities and organizations. Her overall life-mission is to empower people for the kingdom of God.